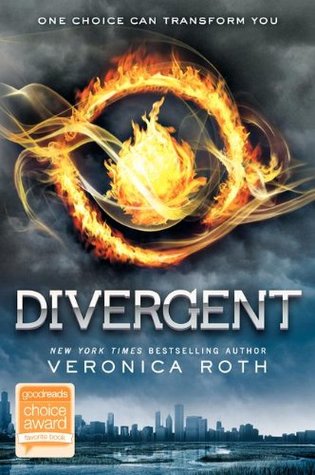 WELCOME TO DIVERGENT WEEK!!! WE HAVE ALL SEEN THE MOVIE (IF YOU HAVEN'T, IT IS A MUST SEE, BEFORE READING THE BOOK OR AFTER, YOUR CHOICE), BUT THE BOOKS HAVE BEEN CALLING ME FOR QUITE A WHILE. SO WITHOUT FURTHER ADO, BOOK 1, DIVERGENT!!
Genre:
YA
fantasy, sci-fi, dystopian, romance
Release Date:
February 28, 2012
Publisher:
Katherine Tegen Books
Series: Divergent #1
His voice is deep, and it rumbles. "What's your name?"
"
Um..." I don't know why I hesitate. But "Beatrice" just doesn't sound right anymore.
"
Think about it," he says, a faint smile curling his lips. "You don't get to pick again."
A new place, a new name. I can be remade here.
"
Tris," Lauren repeats, grinning. "Make the announcement, Four"
The boy—Four--looks over his shoulder and shouts, "First jumper—Tris!"
A crowd materializes from the darkness as my eyes adjust. They cheer and pump their fists, and then another person drops into the net. Her screams follow her down. Christina. Everyone laughs, but they follow their laughter with more cheering.
Four sets his hand on my back and says, "Welcome to Dauntless."
Goodreads Synopsis
In Beatrice Prior's dystopian Chicago world, society is divided into five factions, each dedicated to the cultivation of a particular virtue--Candor (the honest), Abnegation (the selfless), Dauntless (the brave), Amity (the peaceful), and Erudite (the intelligent). On an appointed day of every year, all sixteen-year-olds must select the faction to which they will devote the rest of their lives. For Beatrice, the decision is between staying with her family and being who she really is--she can't have both. So she makes a choice that surprises everyone, including herself.
During the highly competitive initiation that follows, Beatrice renames herself Tris and struggles alongside her fellow initiates to live out the choice they have made. Together they must undergo extreme physical tests of endurance and intense psychological simulations, some with devastating consequences. As initiation transforms them all, Tris must determine who her friends really are--and where, exactly, a romance with a sometimes fascinating, sometimes exasperating boy fits into the life she's chosen. But Tris also has a secret, one she's kept hidden from everyone because she's been warned it can mean death. And as she discovers unrest and growing conflict that threaten to unravel her seemingly perfect society, Tris also learns that her secret might help her save the ones she loves . . . or it might destroy her.
My Thoughts:
The Cover:
I loved the cover of Divergent. Flames like and eye over the city and the marsh that used to be a lake. A stormy sky behind the flaming eye. The cover speaks to you, actually calls to you, especially if you have been craving a good dystopian.
The Plot:
The storyline of Divergent was absolutely amazing. I have wanted to read the books forever, and two weeks ago, I watched the movie and thought it was pretty damn fantastic. So, I was fairly certain that I would enjoy the book even more. Well, I was blown away. To say Divergent was well written would be selling it short. I felt like I was a part of Tris' world, part of her life, privy to her fears, frustrations, victories, and even her love for Four.
The Characters:
There were so many strong, well developed characters in Divergent. I loved Tris and Four. She was so determined and strong, even when she was unsure. And Four, ever the strong, silent type. I must confess, while I liked both their characters in the movie (played by Shailene Woodley and Theo James) I really fell in love with their book characters even more. Supporting characters like Christina, Will, Al, even the villainous Eric and Peter, were all meticulously written. I loved Christina's smart mouth, but hate the rift the competition puts in hers and Tris' friendship. All characters are very real and relate-able. Even Eric and Peter. You get why they are as cut throat as they are. I related most though with Tris and Four, always trying to be better than they were in the moment, always overcoming.....
Is it Worth Reading?:
Oh hell ya!! While I have several "favourite" book series, I can't remember any of them, at the moment, as I am basking in the new book love. Where it really is the only one I am thinking of. I can't
wait to jump into Insurgent, but highly recommend Divergent to readers of Sci-fi and dystopia and give it 5
/5 crossbows!