Love Letters to the Dead by Ava Dellaira
Genre:
YA, romance, contemporary, realistic fiction
Release Date:
April 1, 2014
Publisher:
Farrar, Straus and Giroux (BYR)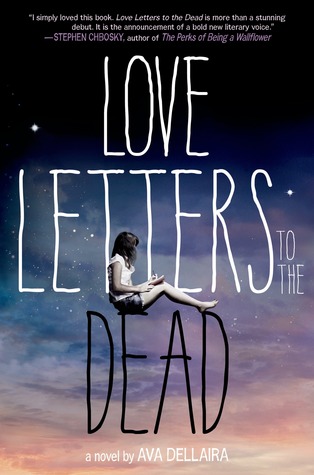 " When I couldn't sleep, she would tell me to imagine myself in a bubble over the sea. I would close my eyes and float there, listening to the waves. I would look down at the shimmering water. When the bubble broke, I would hear her voice, making a new bubble to catch me. Pg 10
It begins as an assignment for English class: Write a letter to a dead person. Laurel chooses Kurt Cobain because her sister, May, loved him. And he died young, just like May did. Soon, Laurel has a notebook full of letters to people like Janis Joplin, Amy Winehouse, Amelia Earhart, Heath Ledger, and more; though she never gives a single one of them to her teacher. She writes about starting high school, navigating new friendships, falling in love for the first time, learning to live with her splintering family. And, finally, about the abuse she suffered while May was supposed to be looking out for her. Only then, once Laurel has written down the truth about what happened to herself, can she truly begin to accept what happened to May. And only when Laurel has begun to see her sister as the person she was; lovely and amazing and deeply flawed; can she begin to discover her own path.
My Thoughts:
The Cover:
I really loved the cover to this one. I love the starry night sky and the handwritten title. It is a beautiful cover, very attractive, but a bit misleading. Not really sure what I expected after seeing the cover, but not really the story we got.
The Plot:
Honestly, the plot to this one is a bit hard to judge. What starts out as an assignment for our protagonist, Laurel, tells the day to day of a high school year for her. But it also tells a deeper story, one of pain and loss and confusion. It gets pretty intense. I think it is a pretty amazing story and Ava does a great job with descriptions and pacing, putting you in the moment.
Characters:
The characters are all very well-defined. Each has depth and personality and flaws, which make them seem real and draw you into the story. I liked how all of them had to face dramatic situations; there were tough choices to be made, some with unpleasant consequences and they all had to be brave and make those choices, be it Laurel and Sky, my favorites, Tristan and Kristen, who seemed to be made for each other, or Natalie and Hannah, best friends forever.
Is it Worth Reading?:
Yes. This book was definitely not what I was expecting. I had difficulty at first getting into it; I was not really a fan of the letters and I found this format made it hard to follow the story line. I knew for quite a bit that there were things our protagonist was alluding too, but was avoiding coming right out with. Then I thought about it. The secrets she had were not the things that you just blurt out. I get that, so as frustrating as it was reading the story, it made sense. It came out the way it would if this had truly started as a high school assignment.
So if you are a fan of suspense, contemporary, then I would definitely recommend grabbing a cup of tea, a blanket, a box of Kleenex and a copy of Love Letters to the Dead. Curl up on the couch or in bed, in your track pants or pjs, and get ready for a good cry. I look forward to reading more by Ava Dellaira.
I give Love Letters to the Dead 4/5 crossbows.