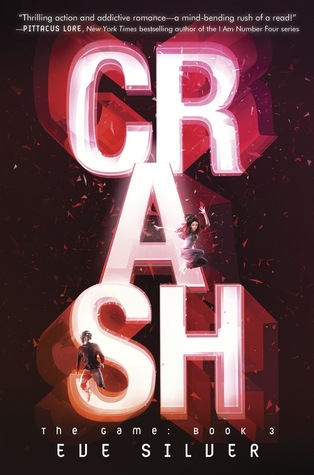 Genre:
YA Sci-Fi, Aliens, Dystopia, Paranormal, Romance
Release Date:
June 9, 2015
Publisher:
Katherine Tegen Books
Goodreads Synopsis:
A thrilling action/suspense novel for fans of The Fifth Wave about contemporary teens pulled in and out of an alternate reality where battling aliens is more than a game—it's life and death.

Miki's life is falling apart around her. Her dad and best friend are lying in the hospital. The Game is glitching, making missions more frequent and more deadly. And someone close to her is waiting for the right moment to betray her.

Miki feels like she's hanging on by a thread and the only thing keeping her tethered is Jackson's hand in hers. Yet telling him how much she needs him, how much she loves him, feels like the biggest challenge of all. And if Miki really wants the missions to end for everyone, she'll have to let go and be ready to fight when the walls between the Game and reality come crashing down. Because if there's one thing she's learned, it's that she's got a whole lot left to lose.

Crash is the pulse-pounding conclusion to the Game trilogy fans won't want to miss.
My Thoughts:
The Cover:
I have loved every cover in this trilogy. In a way they are plain, but artistic and to me they have come to symbolize adventure, bravery, and the excitement of young love.
The Plot:
Can a plot get any better if it already has everything that makes it perfect? Crash is one o
f
those stories that just flows so well, that is just so explosive. I loved every moment of Crash, of the entire series really. It has everything I love in a good book, adventure, drama, action, games, and romance. The "game" is an absolutely amazing con
s
truct and although "getting pulled" and fighting the Drau are absolutely terrifying and dangerous, I looked forward to that next dose of adventure. I was glued to this book from the very first word.
Characters:
As always the characters are very well writte
n. Miki and Jackson are still my favorite, in fact, I think they are my new favorite power couple. They are both strong, supportive of each other, their team, and the ones they love. Lizzie and the members of Miki and Jackson's team are all fantastic characters that I would follow into battle any day. Even the committee characters are interesting characters that I love to hate.
Is it Worth Reading?:
Oh Yes!! The Game is a series that I will read over and over. The action, the adventure, the drama, the characters, all of it was just perfect. I am very sad to see the end of this incredible series, but I think our talented Miss Silver wrapped it up impeccably. I will not say any more for fear of spoiling, but I highly recommend The Game Series and give Crash 5 out of 5 crossbows!!